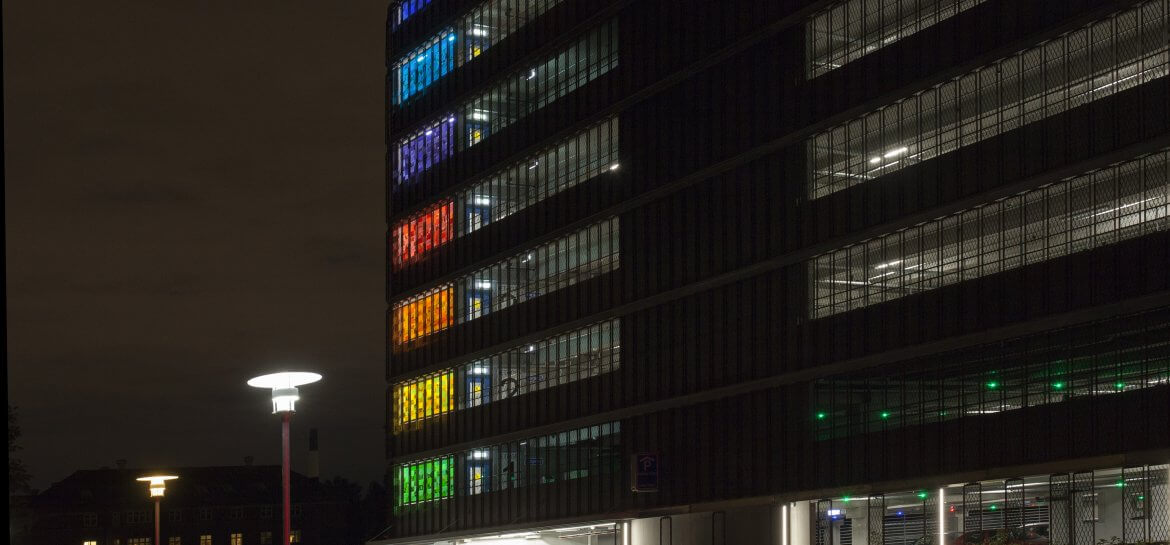 about the project
A Long Time is Not Forever (2016)
A Long Time is Not Forever is created for Bispebjerg Hospital's seven-storey car-park. It is a research-based artwork that has a long process of tracking historical material in archives behind it.
A Long Time is Not Forever contains a wealth of stories from the hospital's long life and consists of seven photographic collages that make up the windows in the staircase of the parking lot. Together with seven related quotes, each floor's collage works with the history of the hospital.
Tardrup have taken into account a lot of historical photographs found in the Royal Library's Picture Collection and Bispebjerg Hospital's own image archive. In addition, Tardrup have documented how the past meets the present Hospital by adding new layers to the story of the place and the past.
The seven photographic collages are based on both the official depiction of Bispebjerg Hospital's cultural heritage and depict personal stories of the everyday life at the hospital. Each floor tells one particular story from Bispebjerg Hospital's 100 years as a pioneer, unique architectural, private home for employees with families and as a small city in the city.
The work emphasizes on several floors, the great architect Martin Nyrops (1849-1921), masterpiece of 1913, and documents the fruit of the close collaboration with landscape architect Edward Glæsel (1858-1915). With their profound focus on the relationship between the whole and the detail on both construction and landscape. They created a human and aesthetic hospital environment that still inspires international hospital projects today.
The floors
1st floor: THE HEALING GARDEN
2nd floor: A HOME
3rd floor: BATH & MASSAGE CLINIC
4th floor: THE HEALING ARCHITECTURE
5th floor: TIME, SPACE & CONDITIONS
6th floor: THE NURSES
7th floor: A WORKING LIFE
om værket
Tekst af Umage
Et kunstværk skabt til Bispebjerg Hospitals parkeringshus af Malene Nors Tardrup i 2016. Længe er ikke evigt er et researchbaseret kunstværk, der har en lang proces med sporing af historisk materiale i arkiver bag sig. Det kan opleves i trappeopgangen i Bispebjerg Hospitals nye parkeringshus på hjørnet af Tuborgvej og Vestre Længdevej.
Værket rummer et hav af historier fra hospitalets lange liv og består af syv fotografiske collager i hver sin farve, der udgør vinduespartierne i parkeringshusets trappeopgang. Sammen med syv tilhørende citater fungerer hver enkelt etages collage som et nedslag i hospitalets historie.
Kunstneren har taget afsæt i historiske fotografier fundet i blandt andet Det Kongelige Biblioteks Billedsamling og Bispebjerg Hospitals eget billedarkiv. Hertil har kunstneren selv taget billeder af, hvordan fortid møder nutid i dagligdagen på Bispebjerg Hospital og på denne måde tilføjet nye lag til fortællingen om stedet.
De syv fotografiske collager tager udgangspunkt i både den officielle udlægning af Bispebjerg Hospitals kulturarv og i de personlige historier om det levede liv på stedet gennem tiden. Hver etage fortæller én særlig historie fra Bispebjerg Hospitals 100 år som banebryder, arkitekturhistorisk unikum, privat hjem for ansatte med familier og som en by i byen i evig forandring.
Arkitekturen og haverne
Værket fremhæver over flere etager detaljerne i det fredede hospital, som er arkitekten Martin Nyrops (1849-1921) sidste mesterværk fra 1913 og dokumenterer frugten af det tætte samarbejde med landskabsgartneren Edward Glæsel (1858-1915). Med deres gennemgribende fokus på forholdet mellem helheden og detaljen i både byggeri og landskab skabte de to sammen et menneskeligt og æstetisk hospitalsmiljø, som stadig giver inspiration til internationale hospitalsprojekter.
Hverdagsliv
Bispebjergs og Danmarks første forstanderinde for sygeplejen, Charlotte Munck (1876-1932), har haft en uvurderlig betydning for udviklingen af en faglighed omkring og uddannelse af sygeplejersker i Danmark. Fotocollagen på 6. etage præsenterer bl.a. fotografier af Bispebjergs første sygeplejersker, der boede i Sygeplejerske-bygningen og flittigt anvendte hospitalets romantiske haver som opholdssteder.
Haverne var også et af overkirurg og ivrig amatørfotograf Dr. Carl Wessels (1867-1946) yndlingsmotiver på Bispebjerg Hospital, hvor han var ansat fra hospitalets grundlæggelse til sin død. Collagen på 2. etage viser et udvalg af fotografier fra Wessels private fotoalbums. Fotografierne er enestående dokumentation af både Bispebjergs udvikling fra byggeplads til hospital og af et familieliv på stedet over tre årtier.
Etagerne
1. etage :: DEN HELENDE HAVE
2. etage :: ET HJEM
3. etage :: BADE- & MASSAGEKLINIKKEN
4. etage :: HELBREDENDE ARKITEKTUR
5. etage :: TIDSRUM & TILSTANDE
6. etage :: SYGEPLEJERSKERNE
7. etage :: ET ARBEJDSLIV
Baggrund
Længe er ikke evigt er Nyt Hospital og Ny Psykiatri Bispebjergs første projekt i et stort og ambitiøst kunstprogram, der realiserer visionen om at integrere kunst i og omkring hospitalet til gavn for både patienter, ansatte, pårørende og lokalbefolkningen.
Malene Nors Tardrups værk er ét ud af tre stedsspecifikke og researchbaserede kunstværker, som kunstkonsulenter fra Umage kuraterer for Bispebjerg Hospital i perioden 2016-2017. Værkerne skal undersøge potentialet for at italesætte stedets historie gennem forskellige kunstneriske strategier.
Det researchbaserede kunstværk til Nyt Hospital Bispebjerg er kurateret af Umage v. Line Kjær & Lotte Boesen Toftgaard.
film
Malene Nors Tardrup fortæller om tilblivelsen af værket. Af miriam nielsen
Montage af værket. Af louise voss bendixen
links