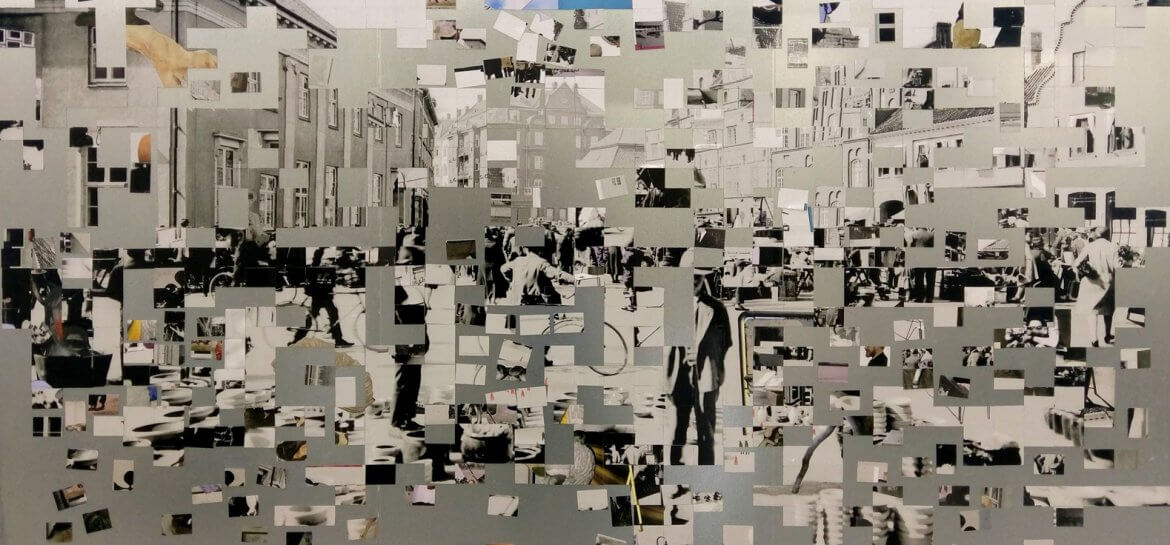 about the project
Publishing House: Re-write History (2016)
In cooperation with the Palestinian artist Noor Abu Arafeh and across different cultural backgrounds, a site-specific, relational and citizen-contributing art project was created in the Baghaven (The Backyard), on Ravnkildevej in Aalborg East.
For several periods in spring 2016 we used the residence, Baghaven, as a production and research site in relation to the INTERMOLECULAR SPACES exhibition in Kunsthal NORD. A three-day workshop was developed and held in Baghaven. On the abstract plane, we began the concept of physics: Intermolecular forces designate the intiuence of two or more molecules, which can be both repulsive and a ractive. The result has become one major joint work, 'Publishing House: Re-write history', consisting of personal stories relative to Aalborg city and region. Each participant made a collage of private photographs and archive material from Aalborg City Archives, local newspapers, etc.. They made collages about their personal story and relation to Aalborg.
The finale work from alle the collages was made into a one huge collage made of 2000 magnets (5×7 cm). At the exhibition the visitors could move the magnetic pieces around and thereby re-interpret or re-write the story/re-compose the picture. They could also take the magnets home and hang them on the fridge or else where. As a small fragmentary story in a new context in a new story – once again.
the workshop
En dansk og to palæstinensiske kunstnere viser værker om at være i transit, 10. juni 2016, kl. 06:43. I en tid hvor flygtninge og migranter er blevet ord, vi forholder os til hver dag, er det naturligt at beskæftige sig med hvad der sker med os som mennesker, når vi bevæger os nye og ukendte steder hen. Det gør de på en nyåbnet kunstudstilling i Aalborg. Medvirkende: Malene Nors Tardrup, kunstner; Shadi Alzaqzouq, kunstner; Noor Abu Arafeh, kunstner; Henrik Broch-Lips, kurator. Af Lise Thorsøe
review
Af Trine Rytter Andersen, Kunsten.nu, 30. juni 2016
"Malene Nors Tardrup leverer fuldbyrdet med en række forskellige og meget præcise værker, der alle er i smuk samklang med udstillingens intentioner om at udvide vores blik på hinanden. Særligt i serien Replacement Migration – Make yourself at Home, hvor vi møder en række immigranter på hjemmebane som ny-borgere i forskellige lande. De beskriver deres kærlighed til de nye steder, og billederne taget i deres respektive hjem afslører, i hvor høj eller ringe grad de har haft behov for at konservere stilmæssige træk fra deres hjemlande."