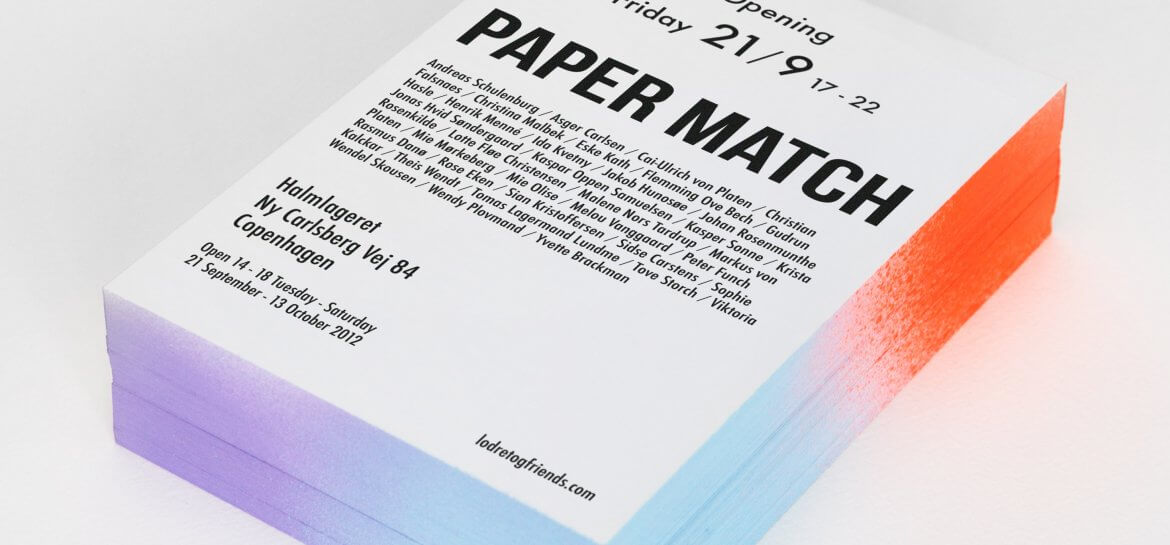 about the exhibition
Paper Match (2012)
A group exhibition about paper and on paper.
about the project
Hang Still – Keep Going (2000-2012)
This photographic work is based on the traditional idea of photography as a medium that 'freezes' moments from reality and which is subsequently 'immortalized' in the photographic paper. According to the (current) photographic status, photography is perceived as static – the photographic moment is here and now. The fruits in the work of Hang Still – Keep Going are so ripe that they can detach from the branch at any moment and fall to the ground. In an ordinary photograph, this will never happen, the moment for the fruits detachment has become 'frozen'. The ripe fruit remains on the tree – forever. In the work, Hang Still – Keep Going, this photographic rule has been repealed.
The work Hang Still – Keep Going was created in 2000 and re-created in 2012.
about the project
Papir Skabe // Paper Illusions (2012)
The installation is based on the 35 metal cabinets located in one of the exhibition rooms; a changing room for the workers. In each metal cabinet's name holder, 32 different words are written describing what is (possibly) behind the locked cabinet doors. All the words relate to paper – in very different ways. The words are set in alphabetical order.
The following paper-related words arranged in alphabetical order (from the original Danish version). The same order were displayed in the installation:
ADMISSION TICKETS, BURNED PAPER, A4 PAPER, CHILDREN'S DRAWINGS, CERITIFIKATER, DIARIES, POEMS, FAMILY PHOTOS, NAPKINS, MAGAZINES, CONTRACTS, LOVE LETTERS, CLOTHS, MEDICAL RECORDS, NOTE BOOKS, NEWSPAPERS, RECIPES, ORIGAMI, PHAMPHLETS, PASSPORT, BANKNOTES, PORN PICTURES , PULP, RELIGIOUS TEXTS, WINDOW ENVELOPES, SAND PAPER, SONGS BOOKS, TAX CARDS and SKETCH BOOKS.
The work deals with our individual imagination – mostly created by our surrounding and norms.
2,5 x 6,5 cm. Ink on Amber Graphic Paper 170g, iron lockers, cylinder padlocks.
The original Danish version:
ADGANGSBILETTER, AFBRÆNDT PAPIR, A4 PAPIR, BESKEDER, BEVISER, BØRNETEGNINGER, CERITIFIKATER, DAGBØGER, DIGTE, FAMILIEFOTOGRAFIER, HYGIEJNESERVIETTER, HYOLOGISK TIDSSKRIFTER, KONTRAKTER, KÆRESTEBREVE, LOMMETØRKLÆDER, LÆGEJOURNALER, NOTESBØGER, NYHEDSAVISER, OPSKRIFTER, ORIGAMI, PAMFLETTER, PAS, PENGESEDLER, PORNOBILLEDER, PULP, RELIGIØSE TEKSTER, RUDEKONVULUTTER, SANDPAPIR, SANGBØGER, SKATTEKORT og SKITSEBØGER.
Værkerne er støttet af Statens Kunstråd.