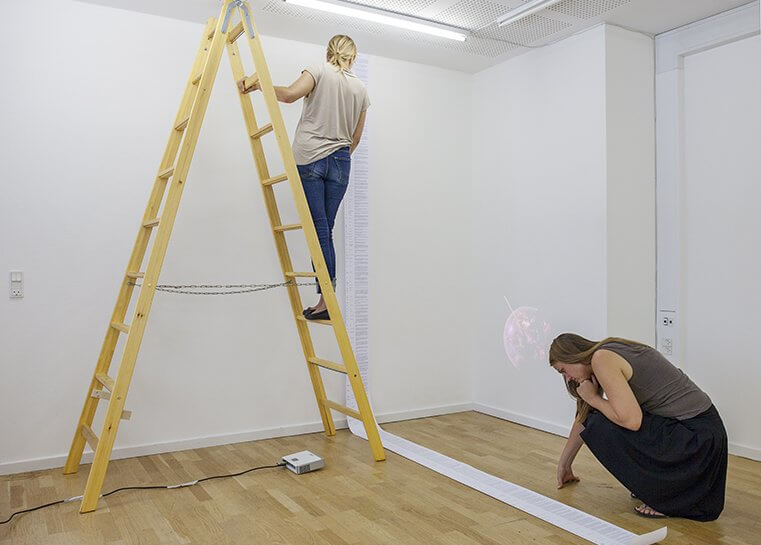 about the project
On time / An exhibition in the context of time at Sydhavn S-train-station. July 26th – August 11th. 2013.
I have worked with apocalyptic movements and doomsday prophecies, which over time meant to know when Judgment Day would occur. So far, all such predictions have been erroneous – they have not occurred on time.The paradoxical is also that if a doomsday prophecy had occurred, it would rule out all the subsequent prophecies.
For the show 'On time' at Sydhavn Station, 5 timely, timebased, timeconsuming, timethinking (etc) artists have been invited to create an artwork for a time-space, rather than an assigned squaremeter-space in the exhibition-room. The show will consist of 51 summerhours of exhibitions, screenings, performances and installations.
In 15 of the commercial-stands of the station, there will also be a poster by each artist. A poster that can be an artwork in its own right, as well as an advertisement, or a timetable for for the piece in the exhibition-room.
om værket
Til udstillingen 'til tiden' på Sydhavn Station er der inviteret 15 tidstypiske, tidskrævende, tidsbaserede tidstænkende (osv) kunstnere til at skabe et værk til et tidsrum snarere end til et fast pladsrum på udstillingen. Udstillingen varer i alt, inkl. ferniseringsaftenen, 51 tætpakkede sommertimer med skiftende udstillinger, videoforevisninger, performances og installationer.
Show more
Mange apokalyptiske bevægelser og dommedagsprofetier har gennem tiden ment at vide, hvornår dommedag ville indtræffe, men indtil videre har alle sådanne forudsigelser været fejlagtige.
Apocalypses
Billedecollage med billeder fra diverse dommedagsprofetier udformet som en symbol for advarsel. 80 x 120 cm, poster.
Exploding Earths
Videomontage hvor jordkloden eksploderer igen og igen. 3 min. video.
deadlines
Deadlines are a 5,5 meter long list of all the doomsday prophecies that have been made since the year 635 BC and (in nitely) far into the future. It is based on everything from religious beliefs, schizophrenic ideas and scientific theories around the time of the destruction of the earth. 21 x 522 cm. Paper on ink, Wiener ladder. // Liste over dommedagsprofetier som er blevet fremsagt siden år 635 BCE og langt ud i fremtiden. Tak til Silkeborg Stigefabrik for sponsorat.